The Cat's Pajamas Bed & Breakfast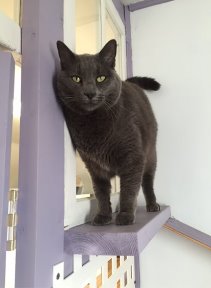 Most cats prefer to stay at home when you are traveling without them. But if a trusted friend cannot make regular visits to care for your cats, book them a vacation to enjoy the comforts of The Cat's Pajamas Bed & Breakfast. Located upstairs from Frederick Cat Vet, cats board in one of twelve deluxe suites with multiple levels and cozy hideaways. Each boarding suite has an elevated window view of wildlife and people and vehicles down below. (Yes, you can see the Cat-octin Mountains in the distance, but cats are far more curious about interesting hustle and bustle than puns and scenic vistas.)

The Cat's Pajamas is serviced by the veterinary staff of Frederick Cat Vet giving each of your cats individualized medical and dietary attention as needed. Cats can enjoy supervised exercise in the Play Room or a relaxing combing session in the Lounge.

We know how easily cats get stressed, so we designed The Cat's Pajamas with their sensitive needs in mind. A quiet, relaxing atmosphere free from the sounds and smells of kennel dogs, many cozy places to rest, windows views and plenty of personal attention from cat lovers all help to make your cat's visit a comfortable and luxurious one.

Lodging:

All suites are floor to ceiling (over 7 feet high)

Standard suites: These have a 3' x 4' footprint and are adequate for 1 to 2 cats. $28.00 per night for one, $17.00 per additional cat.

Medium suite: This space is 4 x 5 feet and can hold up to 3 cats. $34.00 per night for one, $17.00 per additional cat.

Large suites: These rooms have a 4' x 6' footprint and can accommodate up to 4 cats. $40.00 per night for one, $17.00 per additional cat.

In order to maintain the consistent habits of life at home, we recommend you bring your cat's usual food, water, litter (not the box itself!), toys and favorite blanket. We can offer all of these things, but some cats are quite particular and don't adjust well to changes. For these persnickety cats, keeping the small things the same can make their stay with us more pleasant.
Additional charges:
If needed, we will include the standard retail cost of food on your invoice.
The charge for any medication is $1.00 per administration, regardless of type or route (injections, oral administration, or mixed in food).
Checkout: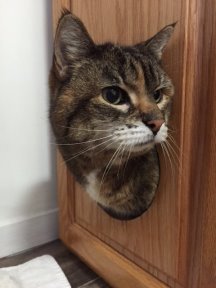 We will schedule an arrival and checkout time when you make your appointment. Checkout and arrivals are during regular weekday Frederick Cat Vet business hours. We are closed Saturdays and Sundays to allow the staff member responsible to devote their time fully to our guests.
Please stop by and take a tour!